Fresh local fish and langoustines, edible seaweed (yes, seaweed !) and paté Hénaff are just a few of the many local specialities produced in Pays Bigouden ! Delicious and unforgettable – try them !
Ultra fresh fish and langoustines !
Every day the Bigouden coastal fleet goes to sea and brings back freshly-caught fish and shellfish which vary with the seasons. They don't come any fresher than this !
Langoustine fishing is a skilled craft and a way of life in Pays Bigouden. Langoustines are known locally as 'demoiselles' (maidens) and 'or rose' (pink gold) ; In English they are also known as Dublin Bay prawns, Norway lobster or scampi.
Here in Pays Bigouden we are lucky enough to be able to buy them live from fishmongers.
In tip-top condition they have shiny black eyes, stiff legs and an orangey- pink shell without marks on the underside.
To enjoy them at their best, cook them while they are still alive to guarantee freshness.
DID YOU KNOW ?
Scientific name : Nephrops Norvegicus
Order : decapod (5 pairs of legs)
Size : 13.3cm for males and 10.8cm for females
They live in burrows dug in muddy sediment on the sea bed at depths of between 15 and 800m.
Gestation period : 8 months
A batch of 1,500 – 4,000 eggs is laid once a year
Males can live up to 10 years whereas females grow more slowly and can live for 20 years.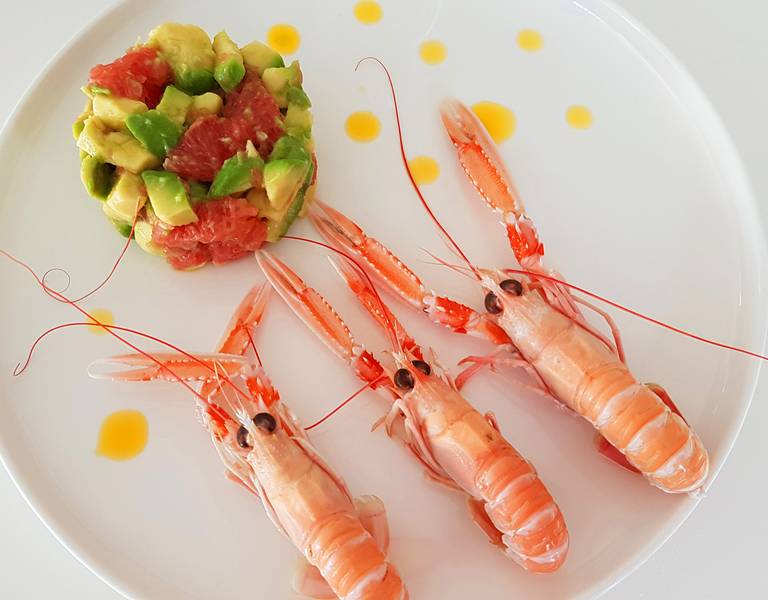 Cooking langoustines
For 1kg langoustines : bring 4 litres of salted water to the boil. Drop the langoustines in and bring back to the boil. Cook for 2 minutes and drain in a colander. They are also delicious eaten as carpaccio, drizzled with olive oil and the juice and grated zest of a lime.
The World-famous Paté Hénaff
If you thought that Paté Hénaff was just for picnics, you're gravely mistaken and in for a surprise ! It is an amazingly versatile product !

The little blue tin, which was born in Pouldreuzic and is well-known around the world, has accompanied sailors for over a hundred years.
Despite its great age, Hénaff paté has retained its traditional quality and unique taste. It is even used in gastronomic dishes by top Breton chefs. But its recipe has always been a closely-guarded secret !
In Pouldreuzic, there is a museum devoted to the history of paté Hénaff and a shop selling the full range of products.
Here are a few ideas to make a change from paté on bread (although that's delicious too !)
- cottage pie using pâté Hénaff
- savoury buckwheat crepe with pâté Hénaff and onion deglazed with cider
- with fish and seafood : scallops, monkfish, etc.
Edible seaweed
It seems surprising to eat seaweed, but in fact we eat it every day without realising, as seaweed is used in the food industry.
Despite their appearance, seaweed has many benefits including extraordinary nutritional properties and subtle flavours, making them versatile ingredients.
Seaweed is collected in two ways, depending on its accessibility, either by hand at low tide or by specially-equipped boats from the seabed.
Two local producers, Scarlette Le Corre at Le Guilvinec and AquaB (brand name Marinoë) at Lesconil, run tasting sessions and discovery workshops.
Scarlette is a unique female owner-skipper. She grows, gathers and processes seaweed in her workshop at Le Guilvinec. Be deliciously surprised by sampling her seafood products or why not take part in her «Cooking with seaweed» workshop.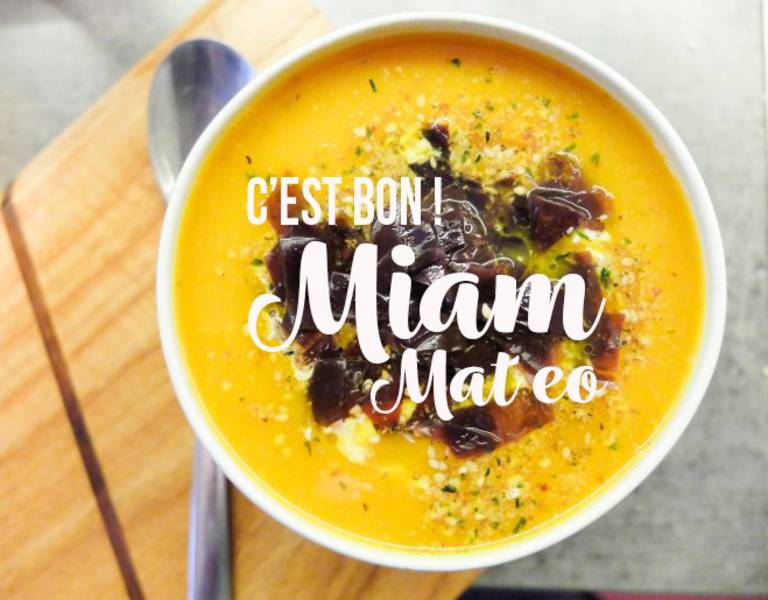 Seaweed soup
Ingredients : 1 small red kuri squash / 2 large onions / 1 tbs olive oil / 1 tbs Marinoë court-bouillon mix / 1 Marinoë dried Kombu leaf / 60g Marinoë salted fresh dulse / Marinoë gomasio with seaweed / soya or coconut cream (or crème fraiche) / sesame oil
METHOD
Peel the onions, cut into large pieces and brown them gently in the olive oil. Cover.
Wash and cut the squash into pieces (it's a magic squash, there's no need to peel it !)
Add the squash to the onions and cook together for a few moments on a high heat. The pieces of squash must be well-browned to give a distinctive delicious chestnut flavour.
Add a tablespoon of court-bouillon mix, the Kombu leaf and cover with boiling water. Take care not to add too much water if you want a thick soup.
Leave to cook for 15-20minutes until the squash is easy to cut with a spoon.
Remove the Kombu leaf and whizz the mixture in a blender.
Serve with a drizzle of cream, a teaspoon of sesame oil, a pinch of gomasio with seaweed and a little fresh dulse.
Best enjoyed curled up cosily in front of the fire !